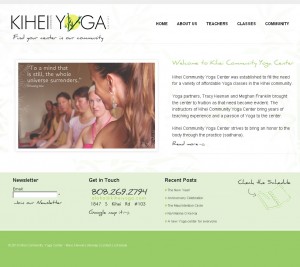 It was a pleasure working with Meghan and Tracy on building a new site that they could manage themselves, no need to email the web master to update the schedule or post news, change contact information etc.
The new and improved site is simplistic yet sophisticated, personal yet professional. Our goal was to present the bamboo element that is part of the foundation and philosophy at the practice, while also using white space to keep the UI clean and classy. The community section is a platform for the instructor to be able to blog and share news and knowledge to their students.
At Kihei Community Yoga Center, it's all about community, go check em out!