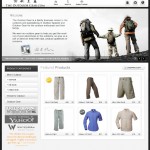 The Outdoor Gear is an online store offering discount hiking apparel and outdoor gear. Our goal with this project was to increase the bottom line (sales). Successful stores employ a combination of techniques, strategies, platforms and good ol' fashioned business practice to reach their goals. We started by addressing the objectives of the site and creating a design theme. By analyzing the flaws of the site we found solutions and methods to improve performance.
At the end of the day we have a site that addresses the marketing 4 p's. Through design and architecture we are reinforcing the value, specificity of the product and highlighting the brand. See pre-redesign image below.
A unique challenge to this project, was the owner of the site demanded Yahoo! store functionality. Yahoo! store is powered by RTML, a proprietary mark up language to HTML, this makes it possible for their template system to be manipulated by novice users, yet difficult for web developers. Solution; we built the site in static HTML (long time since we've done anything static) and used Yahoo! store tags so that the product variables are all customizable by the store owner using the Yahoo! store back-end.
The Outdoor Gear provides high quality, affordable outdoor gear and apparel (similar to Patagonia and REI) at discount prices.
Before re-design: